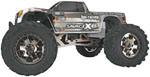 HPI Savage X 4.6 - RTR -
2.4GHz radio

controlled 1/8 scale, ready to run, Savage X 4.6 Monster Truck. We're celebrating the most popular big-block RC monster truck in the world with the release of a fresh new body design! For 2013, we're introducing a stealthy new look for the Savage X 4.6, with a Silver/Black paint scheme alongside a Silver/Gunmetal scheme for a new take on monster truck looks!

Pre-Assembled 1/8th scale 4WD nitro powered monster truck with F4.6 engine, 2.4GHz radio system, Roto Start system, 2 speed transmission and painted GT-3 body.
FEATURES:
Chassis: Rigid 6061 series aluminum TVP (Twin Vertical Plate) Drive: Four wheel shaft drive with heavy duty dogbones Engine: HPI F4.6 with slide valve carburetor, ABC ("A"luminum piston with a "B"rass sleeve that is "C"hrome plated), 8-port liner, 7.5mm slide valve composite body carburetor and dual stage air filter Exhaust: Composite construction tuned pipe, black in color Clutch: Three shoe, heavy duty Electric Starter: Roto Start 2 with starter shaft, 7.2V 2000mAh battery pack and AC wall charger Radio: 2.4GHz pistol grip with failsafe and waterproof servos Transmitter is TF-40 3-Channel 2.4GHz FHSS (HPIL5381) Receiver is RF-40 3-Channel 2.4GHz (HPIL5383) Differentials: Planetary gear with aluminum alloy cases Shocks: Four Big Bore, oil filled nylon body Transmission: Two speed with adjustable shift points Brake: Dual heat resistant fiber discs Body: Painted and trimmed GT-3 Bumpers: Composite construction Wheels: Black chrome Warlock 2.2" (56mm) wide, 3.3" (83mm) diameter with 17mm hex Tires: 3.4" (85.5mm) wide, 6.2" (159mm) diameter Caster: Adjustable, caster/toe-in refers to the angle of the front suspension when viewed from the side of the car in relation Camber: Adjustable, camber refers to the angle of the tops of the tires from vertical when viewed from front or behind vehicle Steering: Bell crank Throttle servo: SF-10W Servo (Waterproof/4.5kg-cm6.0V) (HPIM4105) Steering servo: SF-20W Servo (Waterproof/6.6kg-cm6.0V) (HPIM4109)
Includes:
4 AA Batteries for transmitter
4 AA Batteries for receiver pack
Roto Start
Plazma 7.2V 2000mAh Ni-MH Battery Pack
7.2V 6 Cell Ni-MH Charger
250cc Fuel Bottle
Glow Plug Igniter
WHAT YOU NEED:
Nitro Car Fue

l
Part # HPI109083

$699.99
T Maxx



Traxxas T-Maxx 3.3. This brutal Maxx responds to the call with a huge stance; tough backbone; and wicked, tire-searing performance. T-Maxx brings it all together and unlocks a whole new level of­ monster thrashing­ potential. Go ­faster, jump higher, and let your creativity find new forms of torturous off-road pounding. The T-Maxx 3.3 is stronger, bigger, and meaner right down to its monster core.
Features:
Traxxas Stability Management
TQi™ 2.4GHz Transmitter with Traxxas Link Wireless Module and Receiver
Ready-To-Drive® with included AA battery holder and EZ-Start battery, charger, fuel-filler bottle, spare glow plug, precision tools, and more!
Factory installed telemetry sensors
Extended chassis, heavy-duty chassis braces, and transmission skid plate
Polished Resonator two-chamber aluminum pipe
Large high-volume dual-stage air filter
Tunable, sealed Revo-Spec front and rear differentials
High-torque digital steering servo
Heavy-duty servo saver and bellcrank steering system
Aggressive 6.3" Maxx-sized all-terrain tires
Mirror-Chrome 3.8" Hurricane wheels
Revo-Spec two-speed transmission and center driveline
Supersized Maxx body with fresh paint!
Part # TRA49077-3
$499.99
T Maxx



Traxxas T-Maxx 2.5 Classic - The Traxxas T-Maxx® is the gold standard of Monster Trucks, setting the bar for performance and fun that all others aspire to. T-Maxx has built a proven reputation for delivering performance and fun that is simply unmatched. No other truck has received more awards and accolades. Truck of the Year.* "Best Nitro Truck," four years running.** The number 1, best-selling monster truck
Features:
TQ-3 2.4GHz radio system
TRX 2.5 Racing Engine with tuned exhaust system
40+mph top speed
3.8" Maxx tires mounted on Split-Spoke wheels­
Blazing new body graphics
Strength-optimized bulkheads and differential housings
Receiver box with blue-anodized aluminum crimp nut and charge jack housing
Shock towers that incorporate Revo-style body mounting posts
3.2mm, blue-anodized, 6061-T6 aluminum chassis
EZ-Start® electric starting system
Eight oil-filled Ultra Shocks™
2-amp DC peak detecting fast charger
Part # TRA49104-1
$399.99